The All India Correspondence Chess Federation is
proud to host the ICCF Congress 2004 in Mumbai,
India from 30 October to 5 November 2004.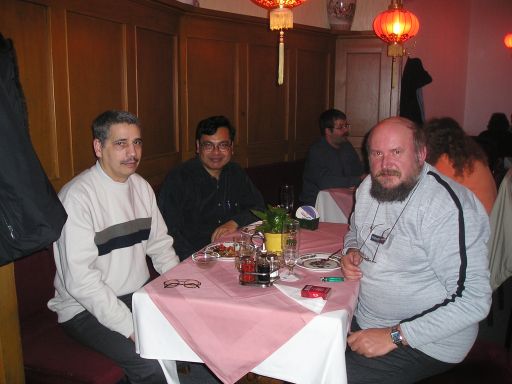 Med Samraoui(left), Ambar Chatterjee and Josef Mrkvicka meet together at
Juelich, Germany March 2004.
The Retreat is a 5 Star luxury holiday resort.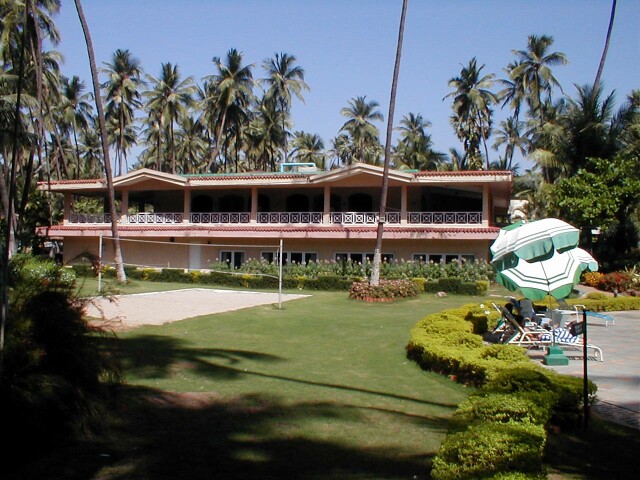 The conference hall to be used for the Congress is on the first floor of the Hotel Annexe.
The Retreat is a 5 Star luxury holiday resort. The main building of the hotel is a 7 storey complex. There are nice gardens, swimming pool, a health club and sauna, Jacuzzi, steam bath, children's corner and a swimming pool, all free to residents. Ayurvedic massage (traditional herbal healing system) and Yoga lessons are also available. On one side of the hotel, the rooms overlook the coast of the Arabian Sea while the view from the rooms facing the other side is of green fields dotted with palm trees.
TOURS
There are 3 tours during/after the conference.
MUMBAI CITY TOUR
A Mumbai City tour will be conducted on Thursday, 4th November. The excursion will start at 0800 (time subject to change). This is a guided coach tour of the major city attractions. You should be back in the hotel by about 1800. Lunch is included in the excursion. This tour is free to participants.
ELEPHANTA CAVES TOUR
The optional excursion to Elephanta Caves is on Friday 5th November. You will be taken by coach (at about 0800) to the Gateway of India in south Mumbai which is the starting point of the motor launch to Elephanta Island. Here you can see beautifully carved rock-cut temples. You will be brought back to the hotel by about 1900. Lunch is included in the excursion.
GOLDEN TRIANGLE TOUR
The optional post conference tour to Delhi, Agra and Rajasthan starts on the afternoon of Saturday 6th November. A coach will take you from the hotel to the railway station where you board a train to New Delhi. From New Delhi you proceed by coach to Agra, Fatehpur Sikri, Jaipur and Sawaimadhapur. You return by train, reaching Mumbai on 12 November at 10:15
Last update: 09 August 2004

35

045

VAN 'T RIET, Nol

?

34

044

TORO SOLIS DE O. Guillermo

No

33

043

RAWLINGS, Alan

No

32

042

HEGOBURU, Pedro

No

31

040-041

HAMARAT, Tunc

Varriale Christine

Yes, 2

30

039

DANEK Libor, Dr.

No

29

037-038

FLORES GUTIÉRREZ, Carlos

Flores Sánchez, Esperanza

Yes, 2

28

036

ROCIUS Marijonas

Yes

27

035

MARINA, Luz

?

26

034

ZAVANELLI, Max

No

25

033

FAY, Ruth Ann

No

24

032

TANI,

Gian-Maria

No

23

031

RŐTOVA, Merike

Yes

22

030

LIEBERT, Ervin

Yes

21

029

SÖDERBERG, Per

Yes

20

027-028

BAUMBACH, Dr. Fritz

1

No

19

026

BRUSILA, Heikki

No

18

024-025

NUUTILAINEN, Esko

Nuutilainen, Seija (wife)

Yes, 2

17

023

RADOSZTICS Evelin

Yes

16

022

RADOSZTICS Gerhard

Yes

15

021

KNOL, Everdinand

Yes

14

019-020

BALABAYEV Farit

BALABAYEVA R. (sister)

Yes, 2

13

018

GAUJENS, Artis

Yes

12

017

GRODZENSKY S. Yakovlevich

No

11

016

DOMRACHEV V. Grigorievich

Yes

10

013-015

SANAKOEV, Konstantin

Sanakoev, Nina (wife); Sanakoev, Gregory (father)

Yes, 3

9

011-012

BIELECKI, Witold

Bielecka, Teresa (wife)

Yes, 2

8

010

MASTROJENI, Gianni

Yes

7

008-009

MRKVICKA, Josef

Mrkvickova, Alena (wife)

Yes, 2

6

007

RUCH, Eric

No

5

006

KARELIN, Evgeny Petrovich

No

4

004-005

Dr. MICHALEK, Miroslav

Ivana Vafkova (wife)

Yes, 2

3

003

PESCHARDT, Sřren

Yes

2

002

SAMRAOUI, Mohammed

No

1

001

BINDER, Gerhard

Yes