ChessWorld.Net Review

My first exposure to chess came before I was six. My cousin taught me how to play,
well let's say he taught me how the pieces moved. The first game he tromped me
with scholars mate, I know the name now. We played often but he always beat me
and did not offer any advice. He moved away and I had no one to play against so
I did not get much practice for many years. Then while in the Army I played
occasionally with a good friend of mine, but after that I took another decade off.

About two years ago I found out about "Correspondence Chess" and was hooked.
The next few issues will be reviewing the many different sites that I have visited and
what each offers. This issue I will be taking a look at www.chessworld.net.

ChessWorld.net was started in late 2001. It was developed and is maintained by Tryfon Gavriel, aka (KingCrusher), and his two fellow co-webmasters Janet Loxham and Nick Gavriel. On the site there is a statement by Tryfon that sums up why he started this site.
"I am very keen on chess, and want this playing server to reflect my enthusiasm for the game.
I have great ideas for this server, and I am trying to get the time to implement them. I want the site to meet chess players needs, and to be a useful resource for the chess community at large"
The site's statistics alone are impressive, as of the end of 2005 they are;

| | | |
| --- | --- | --- |
| 260,422 Members | 1,810,357 Games | 33,849 Tournaments |
| 131 Leagues | 3,157 Teams | 207 Countries |
| 6,886 Forums | 2,245 Annotated games | 553 Tips |
| 860 Puzzles | 428,794 Messages | 3,344 Pictures |
But what hooked me was the ease of play, the number of players, the diversity
of the countries represented, and the many features. The features for "guests"
are great and worth the visit to the site, but they are limited for example, guests
can only play 5 games at a time, not import/export PGN's, no move preview, cannot
take part in Polls or Forums. For a detailed list of Features Click HERE.
One could play here happily as a guest but the little extras make it worth the
$22.50 US a year. The tools such as the Analyse, Conditional, and "Wait for game"
options are fantastic! It is difficult to put into words how many details Tryfon et al put
into this site so as the saying goes, a picture is worth a thousand words and here is that picture.
In the following screenshot you get to see what a normal members game screen looks like.
(Of course I show a game I am doing well in, what did you expect? and
Thanks John for allowing me to use this example)
1. Member and Board Information.
2. Game Messages.
3. Conditional Moves
3a. Conditional Moves Pop-up board.
This is my favorite tool, a members only option. It allows you to play your next move
in reply to your opponents . Excellent for forced moves, and keeping the game moving.
4. This area shows your waiting messages, game rating info, last move and
other important information.
5. Menu area. For those of us still learning Openings the "Openings Identified"
button is great. This area is customizable as is almost every option on the site.
6. Wait for Game Pop-up notification. Another of my favorites. This option
allows you to go about your work and have the "Pop-up" tell when you when you have
games waiting. I find it very helpful and am using it as I write this so I can keep
on top of my games.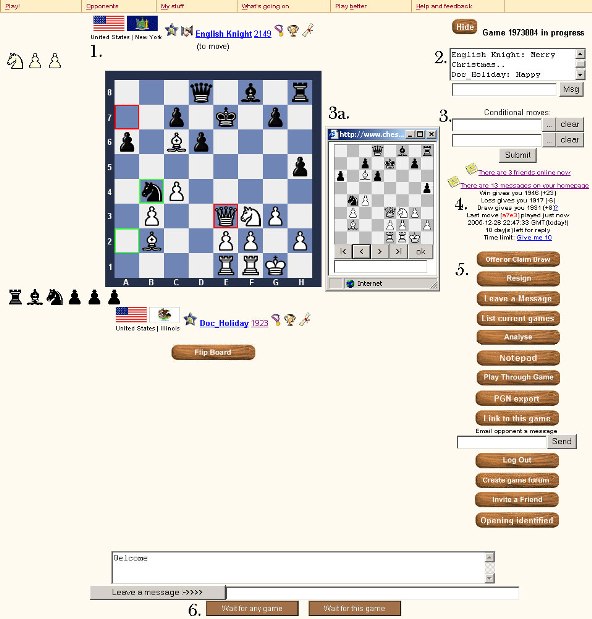 Mr. Gavriel was gracious to answer a few questions for me, so lets hear what he has to say.

Q. What is so special about ChessWorld.net in Comparison with the other internet chess servers?
A. In a nutshell, It's being driven and developed by a complete chess addict!
I am trying to model my enjoyable experiences as a chess enthusiast. For example,
I have played for Barnet chess club in a number of Leagues. I wanted the site to have
team and league play as a high priority. I think therefore the site is becoming a reflection
of my own passion and enthusiasm for chess. As well as my own drive to make it an exciting place,
I think the members on the site are very enthusiastic and they make it great. There is a continual
flow of improvement suggestions, which will keep me busy for a long while.
Q. What are your favorite features?
1. A true International chess club feel.

2. When one goes into the site, there is a sense of huge international chess club community.
The international flags help create this feel, and there are members from over 200 countries
to invite to play.

3. Team and League play. You can join multiple teams as long as the are in different leagues
or even create your own teams. As team Captain you have the capability to set board order
and reserve players, substitute players, etc. When there are five teams in a particular league,
a league cross table can be automatically generated and all teams are paired against each other.
Team play helps (sic) the site much more friendly.

4. Tournaments. The tournaments are very flexible in that you can join as many as you
want, and don't have to wait several weeks/months for the next round to start.
You can also create your own customized tournaments by 'opening' - there is a huge
openings databases where you can select openings code. You can even have the tournaments
as "private", where you can invite selected friends and players if you want to.
There are knockout type tournaments which have recently been introduced, and this
is the type for this year's World Championship event (128 player knockout).

5. Friends and other chat facilities. There are a number of features to help maintain
contacts with friends, including a friends list page, friends online notification,
instant messenger details, messaging facilities. Communication is a central priority
of the serve to make it like a big social chess club. There are a number of forums
on the site for a number of aspects of chess, and there are forums dedicated to
the improvement of particular site features.

6. Rest of World Matches.

7. Powerful opponent finding facilities. This means that you can search for
potential opponents by country, interests, voting, rating, and a number of other combinations.

8. Annotated Games. You can annotate games using an online tool, and have
others annotate your games (not necessarily you opponent). You can also
request games to be annotated as well.

9. Tips and Learning areas. Members can share tips, and there are now hundreds
in the Tips database. You can also find puzzles and other learning tools.

10. My stuff Customization options. As well as being able to configure board
style- colour, size, piece, and sets, you can configure several things about the
mechanics of moving including an "Are you sure you want to move there?".
There is move highlighting of the last move played before that, so you can
quickly reestablish the game context of a game you may have not looked at
for weeks. The My stuff menu provides convenient access to every element
of the playing experience.

11. What going on view facilities. You can view all sorts of things from this menu,
including the top 100 and all the players rating list, the tournament norm holders,
the members currently online, tournaments past and present including all thematic
tournaments, check mate statistics and much more.

Q. What is the general time control of the games?
A. The time controls are as follows.
formula 1: 1 day per move
2 quick!: 2 days per move
Lightning fast 5: 5 days per move
Give me one full week!: 7 days a move
Give me 10: 10 days per move
10 in 50 (click to see stamps): 50 days for 10 consecutive moves, 10 days max per single move
Give me 15: 15 days per move

Q. Who are some of the strongest players on your server?

A. A few ICCF GMs have played Rest of world matches here including JudgeDeat (ICCF GM Peter Coleman), ICCF GM Hector Walsh, ICCF GM Thaler. FIDE IMs and GMs that have played here include GM James Plaskett, GM Patrick Wolff, IM Jeremy Silman, IM Michael Basman, WIM Natasha Regan and WGM Dembo, who is currently very active on the site. Of course IM George Botterill is playing a rest of world match currently, and has played several other individual games - he is a two times british champion and has a 2500+ ICCF rating I think.
Q. How would the top players measure up to the top ICCF or IECG players?
A. I believe that many of the ChessWorld.net - Internationally rated FIDE players would hold their own against the top ICCF and IECG players. Perhaps a match between organizations will sort out the men from the boys! But I do believe that because web-server chess facilitates many of the tedious administrative tasks associated with pure Email-chess, it maybe attracting a less "hard-core" set of chess players who may just want to use chess as a means of keeping in touch with friends.
Q. What's in store for ChessWorld.net members in the near future?

A. I am planning on implementing the huge numbers of suggestions in the Site Suggestions and Feedback forums.

So ends our little talk with Mr Gavriel. I want to thank him for taking time to answer the questions. I asked other members what they found to be the most interesting function of this site and the majority said "Meeting interesting/new people" and I would have to agree. I suggest that if you are looking for a site that offers competitive games, flexible time controls and plenty of opponents give ChessWorld.net a try.

To see the BBC World Broadcast about ChessWorld.net see below.
Here are the links to the recorded show

Real player for the Click online show
(Fast forward to 18:40 /23:05 - 18 minutes 40 seconds in...)

Windows media player
(Fast forward to 18:40 /23:05 - 18 minutes 40 seconds in...)
If you would like to challenge me click the image, log on and look for Doc _Holiday

Play online chess at Letsplaychess.com
Amici sumus play well and see you at the boards,